Course details
【For party such as year-end party】 Satisfaction course ◆ All 16 items ◆ 2H with all you can drink ◆ 4000 yen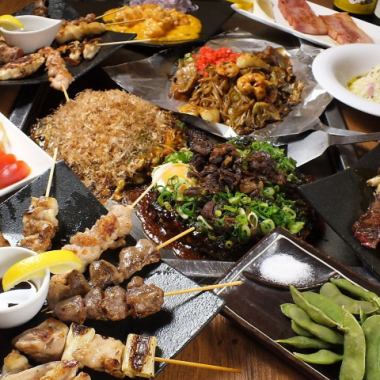 By using a coupon4000 yen
All-you-can-drink price
All-you-can-drink available

Draft beer OK! Loose drinks 120 minutes All you can drink (Lo 90 minutes) ★
Reservation deadline

Until 23 o'clock the day before the store visit date
Available days for reservation

Monday - Sunday - Public holidays - Holidays
Cospa excellent preeminence Volume perfect score ★ Classic menu · Popular menu is full of lots !! Please use it at the welcome reception party / year-end party!
Course menu
■ Specialty NegiOko MIX
■ Pork fried soba noodle
■ Incubate western food with soba
■ Grilled teppanyaki with grilled meat
■ dumplings
■ Goroko salad
Edamame
■ Addictive cabbage / cucumber
■ Chicken and white leek scoured soy sauce
Seasoned grilled sake squid
Thickly sliced ​​bacon steak
■ 100% black pig from Kagoshima prefecture and tea pork sausage
Domestic beef ripened meat steak 150 g
■ Grilled potato with potatoes
■ Grilled teppanyaki
■ Shrimp Mayo
-----------------------------------------------------------
※ The above image will be provided at 4000 yen for 5 people.
※ From 4 people or more, the type of dish and the number of items will increase.
※ The content may change depending on the day.
※ Please contact us if you would like to cook.
Please feel free to ask the staff for details.
All-you-can-drink menu
·beer
·draft beer
· Various Chu Hai
· Lemon · Lime · Plum · Giant Peak · Grapefruit · Sequacer · Calpis
·Cocktail
· Cassis Orange · Cassis Grape · Cassised Soda, Campari Orange · Campari Grape · Campari Soda, Angu Le Suu Lemonade, Gin Tonic · Jin Lime, Mango Yang Soda, Paraiso Soda, Hypnotic Soda, Screw Driver
· Shochu
· Potato · wheat (rock · water split · hot water split · soda cracker)
·Plum wine
· Rock · Water split · Hot water split · Soda split
·Highball
· Black Nikka
·Soft drink
· Oolong tea · Orange juice · Coca cola · Calpis · Grapefruit · Gingeraele (dry)
Coupons that can be used with this course
2018/11/20 update